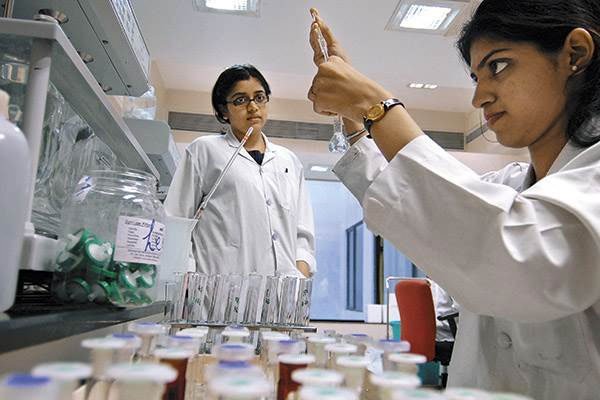 D.Pharmacy (Allopathy)
Diploma in Pharmacy Holds a Bright Future for Students
If you have good aptitude and interpersonal skills and have a desire to help others you can choose Pharmacy as your career. Pharmacists are vital for the primary health care system all around the world. The minimum requirement to become a registered pharmacist in India is Diploma in pharmacy (D.Pharma).
D. Pharma is a practical driven course which is designed to teach the candidates all the basic concepts of pharmaceutical science like:
- Safe and accurate processing of prescriptions

- Dispensing and compounding of medicines

- Accurate record keeping as required under Food and Drug Act

- Purchasing ,Merchandising and Inventory control

- Third party Billing

- Drug approval processes

- Narcotics control

- Pharmaceutical Jurisprudence(laws regulating the profession of pharmacy)

- Regulatory requirements involving testing, screening and clinical trials of drugs

- Computer processing
There are many opportunities after completion of D.Pharma.
- You can get job at drug stores of private or government hospitals.

- You can work in health clinics, NGOs, community health centres by checking the prescriptions, dispensing medicines and give them advice and directions.

- You may get entry level jobs in pharmaceutical companies at various divisions like Process Control, Manufacturing and Quality Control.

- You can also work as Medical Representative.

- If you have entrepreneurial spirit, you can open your own retail pharmacy outlet, wholesale business or surgical items shop.

- Generally, Initial salary in jobs after completing D.Pharma ranges from 8-20k per month but a lot also depends upon your merit, interpersonal skills, profile of the employer, your job profile and job location.
To further enhance your chances of success you can pursue further studies:
- If you have found your passion in pharmaceutical studies, you can go for bachelor's degree in pharmacy.

- In case you have already done D.Pharma you can directly apply for 2nd year of B.Pharma. Thereafter, you can also pursue postgraduate degrees.

- Another interesting future for your career can be degree in Law after D.Pharma.

- Many pharmaceutical companies hire Litigation and IPR (Intellectual property) lawyers.